Looking to crush your way to victory in Candy Crush Jelly Saga? Look no further! This ultimate guide is here to help you navigate every level like a pro. You can conquer even the toughest challenges with expert tips, strategies, and insider knowledge. Prepare to satisfy your sweet tooth and become a Candy Crush Jelly Saga master!
Overview Of Candy Crush Jelly Saga 
Candy Crush Jelly Saga is a delightful puzzle game that will test your matching skills and strategic thinking. Developed by King, the creators of the original Candy Crush Saga, this game introduces new features, such as spreading jelly and battling the mischievous Jelly Queen. To truly dominate this game, you need a solid understanding of its mechanics and a strategic approach to each level.
Understanding the Basics
Before diving into the game, let's familiarize ourselves with the basic mechanics of Candy Crush Jelly Saga. The goal of each level is to spread the jelly by matching candies of the same color. You create matches and eliminate them from the board by connecting at least three candies in a row. But be careful, some levels have specific objectives that require more than just spreading jelly!
Mastering Special Candies
To maximize your chances of success, you must learn how to create and utilize special candies. These candies have unique abilities that can help you clear the board and achieve your goals more efficiently. Here are some of the most powerful special candies in Candy Crush Jelly Saga:
Striped Candies 
A combination of four candies in a row creates a striped candy. 

Match a striped candy with two candies of the same color to clear a row or column.
Wrapped Candies 
Formed by matching candies in a T or L shape, creating a wrapped candy. 

When detonated, wrapped candies clear a 3×3 area around them.
Color Bombs
Match five candies of the same color in a row or column to create a color bomb. 

Combine a color bomb with any candy to remove all candies of that color from the board.
Dealing with Obstacles
As you progress through the game, you'll encounter various obstacles that impede your progress. Understanding how to overcome these challenges is essential to continuing your jelly-spreading adventure. Here are some common obstacles you'll face in Candy Crush Jelly Saga:
Licorice swirls are pesky blockers that need to be cleared to reach the jelly.

Match candies adjacent to the swirls to remove them from the board.
Frosting covers the jelly and must be removed to spread it.

Create matches next to the frosting to chip away at it and expose the jelly underneath.
Pies block the jelly and require multiple matches to break them.

Focus on creating matches adjacent to the pies to gradually remove them from the board.
Battling The Jelly Queen
The Jelly Queen is a formidable opponent who will challenge you throughout your Candy Crush Jelly Saga journey. You'll encounter her in Boss Battles, where the objective is to spread more jelly than she does. Here are some tips for outsmarting the Jelly Queen and emerging victorious:
Plan Your Moves Wisely
Analyze the board and plan your moves strategically.
Look for opportunities to create special candies and combos to maximize your jelly spread.
Focus on Jelly Queen's Areas
Prioritize spreading jelly in the areas controlled by the Jelly Queen.

By dominating these areas, you'll prevent the Jelly Queen from gaining an advantage.
Utilize Boosters and Power-ups
Use boosters and power-ups to gain an edge over the Jelly Queen.
The Jelly Fish, Color Bomb, and Striped Lollipop Hammer are particularly effective.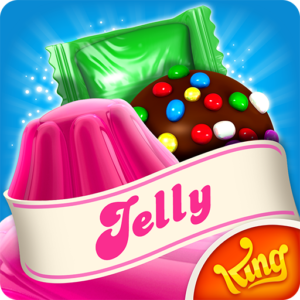 Unlocking Boosters and Power-ups
Boosters and power-ups can give you that extra push you need to complete challenging levels. Here's how you can unlock and use these helpful tools:
Free Daily Boosters
Log in every day to claim your free daily boosters.

These boosters can provide valuable assistance in difficult levels.
Purchase Boosters
If you need help with a specific level, consider purchasing boosters.

The Sweet Teeth, Lollipop Hammer, and Free Switch are popular choices.
Earn Boosters Through Achievements
Complete in-game achievements to earn boosters as rewards.

Check your achievements regularly and claim your well-deserved boosters.
Strategic Tips for Every Level
To truly master Candy Crush Jelly Saga, you need to develop a strategic approach that adapts to each level's unique challenges. Here are some tips and tricks to help you conquer every level like a pro:
Analyze the board before making moves.

Look for opportunities to create special candies and combos.

Focus on completing level objectives rather than solely spreading jelly.

Prioritize clearing obstacles that block your progress.

Save boosters and power-ups for difficult levels.

Use moves wisely and avoid unnecessary matches.
With the ultimate Candy Crush Jelly Saga guide at your fingertips, you're now equipped with the knowledge and strategies needed to conquer every level like a pro. 
Remember to analyze the board, create special candies, and adapt your approach based on each level's unique challenges. Stay persistent; soon enough, you'll be easily spreading jelly!